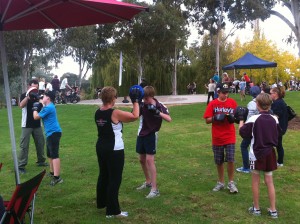 Pound 4 Pound Personal Training offers Kid's Boxing Classes for kid's 4yrs – 12yrs of age. The kid' boxing classes teaches how to box and defend in a safe environment keeping the kid's fit and healthy. The kid's will also learn that their new found techniques are only to be used in the gym and not the playground.
Check out a video of Harry Kitching who is 12 years of age : Harry Kitching – YouTube Video – Kids Boxing
Class Schedule
Wednesday's – 4:15pm – 5pm
Costs

Classes are $8.00 per child. First training session requires an upfront payment of $38 which includes first session and a pair of boxing gloves for the child.
Information
All classes are run by gym owner, Steve Dargan who has over 20 years experience in boxing. Steve has a working with children license which is a requirement in Victoria.
P4P also encourages the parents to get involved with the sessions as well by assisting with pad holding. This creates a fun environment not just for the kid's but for the parents as well.
Feel free to come along to the gym to view the classes before making a decision to join us.